Home

Flight Locations

Your Flight

About Us

Health & Safety

In Flight Photos

Feedback & Video

External Links

Contact Us

Rural support

1000th flight blog
Follow us on

Facebook



Our Balloon Flight Locations and Areas
Our Flight Vouchers are valid for our scheduled flights over the following areas (although can be transferred to be used with England based balloon operators that are part of the Balloons over Britain group - details available on request).
Lothians & Peeblesshire
We meet you at Hillend, Edinburgh on the A702 conveniently just off the Edinburgh A720 bypass. From there, we take you to one of our many available launchsites which will enable us to get the best flight for you from the wind direction on the day.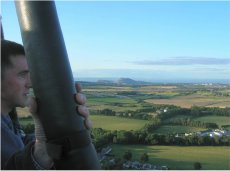 Our Midlothian launch sites include a site near Roslin and sites at Arniston House between Gorebridge and Temple, Melville Castle near Dalkeith, Penicuik and Mount Lothian. Our Peebleshire launch sites include West Linton, Eddleston and Peebles. A typical flight may take us over the dramatic Moorfoot or Pentland Hills and/or over Midlothian's rural landscape with its picturesque villages, castles and reservoirs. The area is simply superb for ballooning and all on Edinburgh's doorstep!
Click here for our Facebook photo gallery for flights in this area.
Perth & Kinrosshire
We meet you at the Kinross Moto Service Station just off Junction 6 on the M90, Kinross. We generally launch at either Balado near Kinross if the wind has a southerly component, else Bridge of Earn (just south of Perth) if it has a northerly component.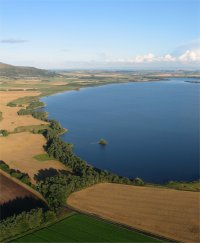 We normally get treated to excellent views over Loch Leven, Kinross or perhaps Perth, and the beautiful Ochil and Lomond Hills. With an Easterly wind from Bridge of Earn, we may fly down Strathearn towards Dunning and Auchterarder near Gleneagles; or from Balado, towards Crook of Devon and Dollar in Clackmannanshire. With a Westerly from Balado, we will fly over Milnathort/Kinross towards Auchtermuchty, Falkland and Cupar. With a Southerly from Balado, or a Northerly from Bridge of Earn, we will generally cross over the dramatic Ochil hills.
Click here for our Facebook photo gallery for flights in this area.
Scottish Borders
We operate flights from the picturesque village of St Boswells and the town of Kelso in the heart of Scottish Borders country. Meeting at the Buccleuch Arms Hotel, on the A68 on the southern edge of St Boswells, we generally launch from the village green across the road or travel a few miles to an alternative site (such as Kelso if the wind is an easterly) to suit the wind direction.
With a westerly wind from St Boswells, we will fly eastward along the Tweed towards Kelso (and catch a view of the dramatic Floors Castle) and perhaps onto Coldstream. With a northerly, we will drift south towards Jedburgh renowned for its Abbey ruins.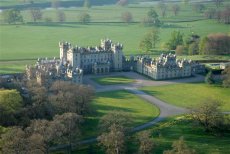 With a southerly or light easterly, we may drift over the impressive Eildon Hills and on towards the town of Melrose (with its impressive ruined abbey) and then on to Galashiels, perhaps catching a glimpse of Sir Walter Scott's home at Abbotsford, or further south to Selkirk or Hawick. With a more easterly wind, we will start our flight in Kelso and drift along the Tweed back towards the St Boswells direction so we can be assured of giving you a good flight duration and not land up flying into the hills - it'd be a long walk down!
Click
here
for our Facebook photo gallery for flights in this area.
West of Scotland
The areas of Glasgow, Ayrshire, Renfrewshire and north Lanarkshire are not generally practical for ballooning due to the high urban density of buildings and the busy airspaces surrounding Prestwick and Glasgow airports. But our Peebleshire flights from West Linton sometimes extend into south Lanarkshire (flying towards Biggar or Carnwath and Lanark) with a north-easterly wind. Dumfriesshire, away from the mountainous parts (see Highlands & Islands below), consists of coastal areas (with the towns of Dumfries, Castle Douglas, Newton Stewart and Stranraer) and we don't like to get close to coasts as there may not be anywhere to land before heading out to sea (and balloons don't float!).
Angus & Aberdeenshire
We draw many passengers from the cities and towns of Dundee, Arbroath, Montrose, Stonehaven, Aberdeen, Peterhead and even Inverness (and their surrounding areas) down to our Kinrosshire flights as it is normally a straightforward drive down the A90 or A9, and then the M90 to reach Kinross.
For ballooning, the area around Aberdeen itself is too busy with oil industry air traffic, but the area to the west does provide good opportunity provided it's not plagued by the dreaded east coast haar! Similarly, for the area of Angus although there is sometimes not a lot of space to get in a decent flight duration between the start of mountains to the north-west and the coast to the east and south. If you particularly wish to fly over these areas and can put together a group of 8 people, then please talk to us and we can look at possibilities for you.
Stirlingshire & the Central Belt
Again, we draw many passengers from the cities and towns of Stirling, Bridge of Allan, Dunblane, Falkirk, Cumbernauld and Glasgow (and their surrounding areas) to either of our flying areas with the easy access provided by Scotland's good road and motorway system in the Central Belt. The area around Stirling itself can provide some opportunity for ballooning but is better after harvasting (around mid-August) when more of the many arable fields in the area become available for landing in. If you particularly wish to fly over this area and can put together a group of 8 people, then please talk to us and we can look at possibilities for you.
Highlands & Islands
Unfortunately, it is not practical to balloon over Scotlands majestic mountainous and island regions as there simply aren't reliably certain areas for us to land (and extract the balloon back onto its trailer afterwards), particularly as there is no possibility to directly control the steerage of the balloon other than to use what wind variation there may be with altitude.