Home

Flight Locations

Your Flight

About Us

Health & Safety

In Flight Photos

Feedback & Video

External Links

Contact Us

Rural support

1000th flight blog
Follow us on

Facebook



Fitness, restrictions, fears, safety and insurance
Fitness
Ballooning is not a particularly physically arduous or adventurous activity. Nevertheless, you should be able to climb into the basket (foot holes are provided) which is about 110 cms (44 inches) high. You should also be flexible enough to adopt a crouched position for faster landings (during which the basket may tip) and be able to safely absorb the bump of a landing which can sometimes be a little hefty.
One can equate the impact of a heavier landing to standing on a dining chair and jumping off and landing both feet on the floor, perhaps a 50 cm (19 inches) drop or so. Thus we are unable to fly you if you are pregnant or if you have any significant ankle, knee, hip, back or bone weaknesses. We also advise anyone who has a heart, nervous or mental condition not to fly as it is not generally possible to land the balloon at short notice should anything untoward happen whilst airborne. If in any doubt, please discuss any concerns with your medical practitioner and inform us of the condition and advice given.
We reserve the right to insist that a passenger with a medical or physical condition be accompanied by a suitable able bodied person at their own cost in certain circumstances.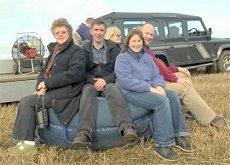 We do need most passengers to help to assemble, inflate and later pack away the balloon, but this is all part of the ballooning experience! If you are a little weak, it is no problem to stand aside for this part. Do notify us if there is a possibility that you may injure yourself whilst participating in such activity.
Restrictions
Please note that we are unable to fly any child under the age of 8, partly because they wouldn't be able to see over the side! Older children under the age of 16 need to be accompanied by a responsible adult.
We are not normally able to fly persons whose weight exceeds 18 Stone (115 kg) unless they are accompanied by additional lighter weight persons to average out the total weight below 18 Stones per passenger.
Fear of heights
Everybody can have a fear of heights but it is oddly rare in a balloon! The sides of the basket reach up to lower chest height (unless you're particularly tall) giving a good feeling of security. The balloon doesn't so much as leave the ground as the ground leaves the balloon! You'll feel no acceleration as you do in a lift or aeroplane.
We float gently along with the wind, so there is total stillness and stability when we're in the air. It is a totally calming experience. The first few minutes can sometimes be a little unsettling for some people, purely because of its unusualness, but the pilot is there to reassure and help you with this novel feeling and you'll soon be in awe like everyone else.
Safety
A balloon flight has been shown to be the safest way of getting into the air. Its very simplicity and slowness provides occupants with inherent protection against the unlikelihood of any failure or accident. The balloon is inspected at least yearly as is your pilot who will possess a British Commercial Balloon Pilot's license. Weather is the limiting factor for the safe conduction of a flight and your pilot will use their extensive experience to only take to the air should they be reasonably certain that a safe flight can be conducted. Alba Ballooning prides itself on maintaining a 100% passenger safety record.
The pilot will refuse to fly anyone who appears to be intoxicated, under the influence of drugs or in any condition that may endanger themselves or the safety of the flight.
Insurance
Everyone who flies in the balloon is insured against injury to European legislated minimum requirements and loss of personal effects to a limit (details available on request) but you must inform us before booking a flight of any medical or physical condition you may have that a balloon flight could affect.