Home

Flight Locations

Your Flight

About Us

Health & Safety

In Flight Photos

Feedback & Video

External Links

Contact Us

Rural support

1000th flight blog
Follow us on

Facebook



Alba Ballooning - more about us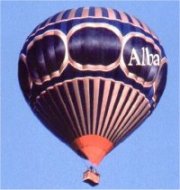 Alba Ballooning received its 'Air Operator's Certificate' from the UK Civil Aviation Authority on 15th April 2000. Our flight over Edinburgh on the 3rd May 2000 yielded a praiseworthy two-page feature article in The Scotsman newspaper and our first flight in Kinrosshire on 30th April that year resulted in front page coverage in the Dunfermline Press and the Fife and Kinross 'Extra'. In 2003, an 'in flight' interview by Edi Stark was featured on the Fred McCauley show on BBC Radio Scotland. In 2005 we flew the restauranteur Martin Wishart who helped us celebrate our 3000th passenger flown. In 2007, we worked with BBC Radio Scotland and the BBC Landward TV team to promote continuing good relations with the farming community on whose goodwill we depend.
Alba Ballooning has been set up and is operated by Pete Forster, a highly experienced balloonist who has regularly flown in the Edinburgh area for over 18 years. Since gaining a professional license in 1994, he has worked as a commercial balloonist and also as a qualified instructor across Europe accumulating over 1400 hours of experience from tree-top to Alpine heights. He's worked with TV crews both in Germany and over the Austrian Alps, organised a balloon festival in Edinburgh and a balloon holiday tour to France, dropped parachutists from 6000 feet, won trophies at competitions and written several articles for a national balloonists' magazine. Ballooning is a never-ending passion for him which you will soon discover if you come along on a flight!
In recognition of the service provided by Alba Ballooning, we were invited to join the Balloons over Britain group which contains some of the most well established independent balloon companies in Britain and services top clients such as Red Letter Days. We are the only Scotland based member of this group of prestigious companies and, because passengers are able to transfer between member companies, a gift voucher purchased from us can effectively be used nationwide with any other member operator.
Alba Ballooning can also provide a balloon for events and promotions. If you need to add that extra appeal to your event, then we can bring along a hot air balloon and tether it to two anchor points such that it is able to rise perhaps 20 feet or so. We have attended events at the National Museum of Flight Airshow at East Fortune, and have performed tethers at Freeport Leisure Village promotional days, Real Radio's opening gala day in Livingston and further community gala days in Dunfermline and Rosyth.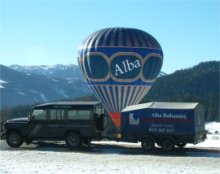 If you'd like to know more about becoming involved in ballooning, then simply talk to us! For those wishing to learn about flying hot air balloons, then Pete Forster is a qualified BBAC Instructor and will happily explain everything that is involved in getting a PPL(Balloons). We can also advise you on how to go about buying a new or secondhand balloon. Advice is free!
We can also organise attendance at ballooning festivals both in Britain and on the Continent. Alpine ballooning in January/February or hosted tours through Portugal in March. Talk to us and we'll see what we can come up with. We have the experience and connections. If it sounds like fun, we'll do it!