Home

Flight Locations

Your Flight

About Us

Health & Safety

In Flight Photos

Feedback & Video

External Links

Contact Us

Rural support

1000th flight blog
Follow us on

Facebook



Your Balloon Flight with Alba Ballooning
When we fly...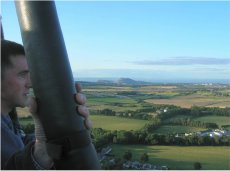 Mid March through to late October is the main season for us during which flights may take place a few hours after sunrise or a few hours before sunset when the atmosphere tends to be more stable and suited to ballooning. Ballooning is only possible in light stable wind and dry conditions with reasonable visibility.
We schedule over 300 flights in a year and Scottish weather typically enables us to fly around 80 of them so you may have to make several bookings before being successful. Many fly on their first or second attempt, but a few on their tenth or eleventh or more! Patience and perseverance may be required but always eventually pays off as you will see from our passenger feedback!
...and how it all works...
Once you've arranged a date, you will be asked to call us a few hours before the meeting time (or the previous afternoon for morning flights) for the flight to check whether the flight can go ahead or not. If we think that the weather should be suitable, we will meet you at a meeting point. From there, we will ferry you to the chosen launch site for the flight which is selected based on the wind direction so as to maximise our chance of getting in a one hour flight and finishing up somewhere suitable to land.
We involve you in the entire ballooning experience - with the assembly, inflation and packing away. We will explain much about the world of ballooning and points of interest upon the landscape that we pass over during your time with us. We will answer all your questions (if we know the answers!). We want you to go away with more than just a flight in a balloon.
We say we will fly you for around an hour and we do our utmost best to do so. We fly you in one of our 6, 9 or 12 passenger capacity balloons. The basket is divided for your comfort and safety into 2 or 3 person compartments which give you a feeling of individuality and not one of being squeezed into an airborne bus!
After packing away, we will celebrate our flight in traditional style with a glass or two of champagne and a commemorative certificate will be awarded to everyone. We can then ferry you back to the meeting point in our vehicle that has been following our airborne progress on the ground. Alternatively, you may have brought along your own spectators who've similarly followed us along and they can drive you directly home.
You should allow 3 to 4 hours for the whole trip: from the meeting time to your return to the meeting point after the flight.