Our Home Page

Our History

Webster Balloons

UK Ballooning

Alpine ballooning

In Germany

Contact Us

Facebook




Alpine ballooning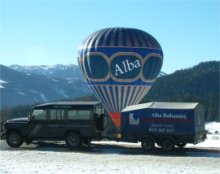 Each January, we attend Alpine balloon meets hosted at the village of Filzmoos, south of Salzburg in Austria where they have been hosting meets for over 40 years. I first attended the Meet as a freelance commercial balloon pilot with a German balloon team in 1996 and haven't missed a year since! From 2005, I have attended with my own balloon team from the UK, flying either a loaned balloon or my own.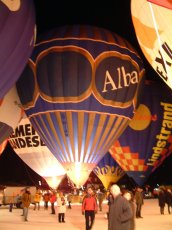 On the first Sunday evening, many of the thirty or so balloons attending inflate on the snow packed launchfield in the village to perform a "nightglow" to entertain the locals and thousands from as far afield as Salzburg an hour away. For about 45 minutes, various popular songs are blasted out of the speaker system and the multi-coloured balloons use their burners to light up the ballooon envelopes in synchronisation to the music. Despite the sub-zero temperatures, everyone stays warm, aided not least by copious amounts of gluhwein and meaty sausages in bread rolls!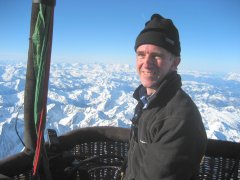 Flights over the Austrian Alps are truly spectacular. We might fly for several hours to get over a range of mountains and down into a valley for landing safely, flying at up to 15,000ft although some balloons carry oxygen and fly even higher. Although we might fly only 50 miles or so, the retrieve team below might have to drive several times that distance to get around the mountains to get to our landing location. Austrians are wonderfully friendly and it's not unknown for locals to come out with a tray of schnapps to welcome our unexpected arrival!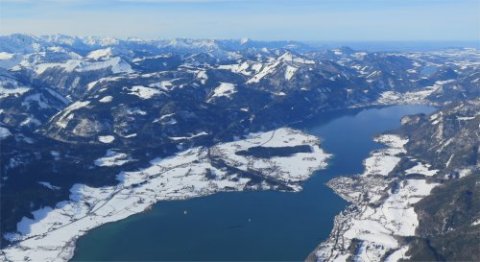 A view over Wolfgangsee, Austria. the "dots" near the Lake surface are balloons.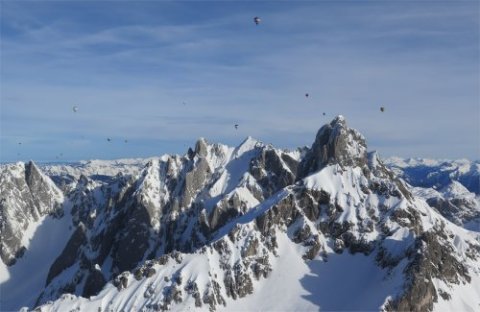 A dozen balloons over the Bischofsmutze mountain, Austria.