Our Home Page

Our History

Webster Balloons

UK Ballooning

Alpine ballooning

In Germany

Contact Us

Facebook




Ballooning in Germany
In 1992, I met up with German photographer and publisher Karl Johaentges in Edinburgh to help him with a Scotland book project (and we did a balloon flight that October over Edinburgh to get some great photos for it!). This resulted in an invite to Hanover to help complete the project and also to do some ballooning for the company that he had previously worked with on a book project of photos taken from a balloon over the former East Germany just after the reunification in 1989.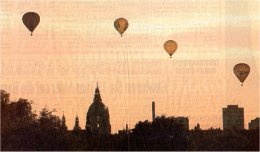 This led to me working a further four full summer seasons for BASYS Ballonsysteme in Hanover and some part seasons thereafter. The company would often operate up to five balloons many evenings and there was great cameraderie between the mostly young pilots as each competed to best entertain their passengers above Hanover and the surronding countryside. Certainly, it was not unusual to finish up in a beer garden after the flight with passengers, pilots and crew for an extended evening of jolity!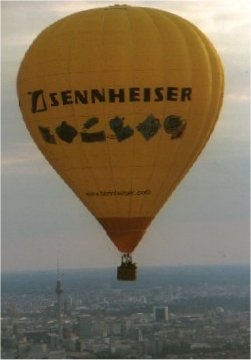 In 1998, after gaining experience with flying larger balloons with Airborne Adventures based in the Yorkshire Dales, I started working for Berlin Ballooning which operated flights over the rural Brandenburg State to the north-west of Berlin. Very occassionally (as the wind conditions had to be just right), we would be able to do flights over Berlin itself which was particularly special - taking in views that would include the distinctive former East's TV tower (as in this photo), and perhaps on to the Glienicke Bridge where Cold War spy exchanges were once made (see photo below).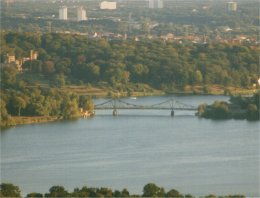 The majority of flights took place from the small airfield at Fehrbellin, north-west of Berlin. This was a popular airfield for parachuting and I would sometimes take up a couple of parachutists to some 6000ft before they clambered out and jumped, some with more confidence than others! These were the only flights I ever made when I landed with less passengers than I took off with!
In 1999, I started to fly in the rural pasture Rheinland area near the Dutch border. Flights would typically include passing over or adjacent to the wide Rhine river, sometimes crossing over the border to land in Holland where the smaller field sizes meant some tight landing spaces at times.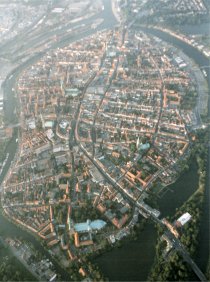 In later 1999, I also started to fly in the Lubeck area near the Baltic sea coast for Geo Ballooning. Flights were arranged to start upwind of this UNESCO World Heritage Site small city such that we would be drifted over post war restored Lubeck itself. The city, renowned for Gothic architecture and marzipan (!), is built on an island in a split of the river Trave as shown in this photo from high aloft on a typical flight.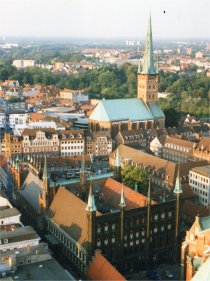 With seven ornate spired churches, two of which are double spired, it made for awe inspiring flights, often using the various winds at different heights to fly precisely over the centre, sometimes even between the spires if no one was watching early mornings!!! This photo shows a view on a flight over the Gothic city hall building and market place and past just one of the seven steepled churches.