Our Home Page

Our History

Webster Balloons

UK Ballooning

Alpine ballooning

In Germany

Contact Us

Facebook




History of Alba Ballooning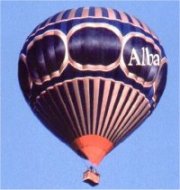 Alba Ballooning received its 'Air Operator's Certificate (Balloons)' from the UK Civil Aviation Authority on 15th April 2000. The inaugural promotional flight over Edinburgh on the 3rd May 2000 yielded a praiseworthy two-page feature article in The Scotsman newspaper and the inaugural flight in Kinrosshire on 30th April that year resulted in front page coverage in the Dunfermline Press and the Fife and Kinross 'Extra'. In 2003, an 'in flight' interview by presenter Edi Stark was featured on the Fred McCauley show on BBC Radio Scotland. In 2005 we flew the restauranteur Martin Wishart who helped us celebrate our 3000th passenger flown. In 2007, we worked with BBC Radio Scotland and the BBC Scotland Landward TV team to promote continuing good relations with the farming community on whose goodwill we depend and flew the team again in 2008 for another feature on Scottish ballooning.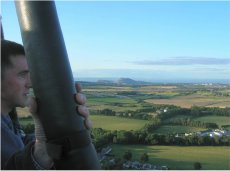 Alba Ballooning was founded and operated by Pete Forster, already a highly experienced balloonist who had learnt to fly through the Edinburgh University Hot Air Balloon Club in the early 1990's. Sadly, the Club, founded in the very early days of hot air ballooning in 1970, folded some years ago. After gaining a private ballooning license in 1992, he went on to gain a commercial license in 1994, and worked as a commercial balloonist and also as a then qualified instructor across Europe. He's worked with TV crews in the UK, Germany and over the Austrian Alps, organised a balloon festival in Edinburgh and a balloon holiday tour to France, taught at a balloon school in southern Spain, dropped parachutists from 6000 feet, won trophies at competitions, provided humorous talks on ballooning to audiences such as the Scottish Aero Club at Scone, and written several articles for a national balloonists' magazine.
In 2002, Alba Ballooning became part of the Balloons over Britain group which contains some of the most well established independent balloon companies in Britain, servicing leading Agencies such as Red Letter Days, Buy A Gift and Into The Blue. Pete Forster became a Director of this group in 2004, subsequently holding roles including Chairman, helping to oversee the group through times of significant consolidation in the UK balloon rides industry.
Alba ballooning was the sole balloon flights supplier to Edinburgh based Gift Experience Scotland, the leading Activity Voucher supplier in Scotland and focussed on Scotland's multitude of activity and hospitality suppliers until its own sad demise in May 2018.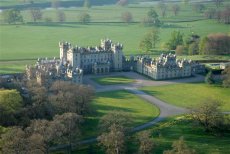 After developing ballooning over the Lothians & Peeblesshire area and the Kinrosshire & Fife area, in 2011, the option to fly over the Tweed Valley and also Northumberland were added, also proving very popular amongst customers in those beautifully scenic areas. This is a view of Floors Castle taken on a typical Tweed Valley flight.
As well as providing passenger rides over Scotland and Northumberland, Alba Ballooning also provided a smaller tethered balloon for events and promotions. This included attending the National Museum of Flight Airshow at East Fortune, Freeport Leisure Village promotional days, Real Radio's opening gala day in Livingston and further community gala days in Dunfermline and Rosyth amongst others.
The viability of any self-standing balloon rides company depends on sufficiently suitable enough weather each year to enable sufficient flights to be flown to cover the bills, a high proportion of which are fixed costs regardless of the number of flights achieved. By the end of the 2017 season, the worst for suitable ballooning weather conditions in 18 years of operation, it was clear that the weather in central east Scotland had been progressively deteriorating as regards suitable ballooning conditions for some 6 years. Gone were the heady days of getting 80+ flights away each season to less than half that number in 2017. The sad decision to end providing public balloon rides was therefore taken as it was simply financially unviable to continue.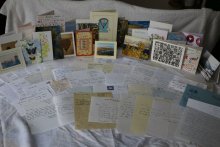 During its 18 year operating period, Alba ballooning owned and operated a series of four balloons, starting with a small 145,000 cu ft six passenger balloon and finishing with a 250,000 cu ft ten passenger balloon which can now be seen flying in the Czech Republic near Prague. Over 1200 flights were conducted and a little short of 10,000 passengers were flown - all returned to earth safely. Many have written much appreciated lovely feedback and reviews on TripAdvisor and Social Media or written letters (as shown here) and emails of thanks for their experience. These will always be treasured.